TOBAGO MINI-REUNION
THE PEOPLE OF THE REUNION.
---
No question at all that it is people that make things happen, both good and bad. The Tobago mini-reunion was about people, and the following pics try to capture the part each person played in making the get-together such a success just by being there. No support from PaP memorabilia, just good laid back Trini humour and a lot of recounting of good memories and experiences. Even after all of this time the bonds are still there and were definitely strengthened by this Crown Point Hotel meeting. Rum?...did you say rum??...hmmmmm....come to think of it......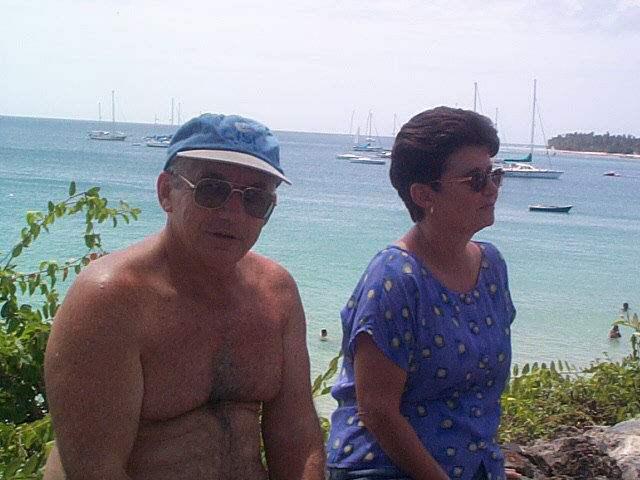 Tommy and Sandra Johnson were great......Tommy did a lot of the preparatory groundwork and made sure that the major things were in place....once we got there it was left to us all to make the whole thing work. Sandra provided the calming influence that the gathering needed to keep from overheating and going "super-critical". An avid golfer, Tom kept a good balance between golf and the reunion. It was great to see you both.....thanks for everything Tom.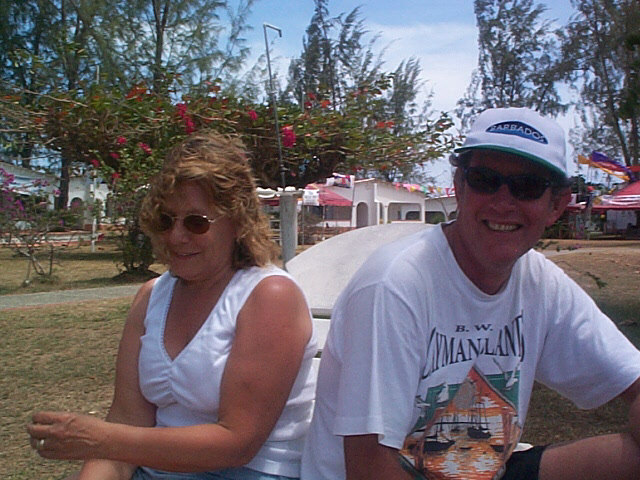 Hi Chris, 'ullo Wes.....definitely the guest of honour, the Westmorlands got right in to the middle of the whole thing from "word say go". The first time any of us had seen Raymond since his heart attack and it was great to see that he was OK, and that it had changed him very little. Chris loved the buljol but didn't think too much of the delicious raw fish that Alec had pickled Peruvian style.......I'm going to give it a try....."chaveche"?????. She did all right with the rum and Coke too....eh Chris?? Cheers you two, great to see you and look forward to the next one.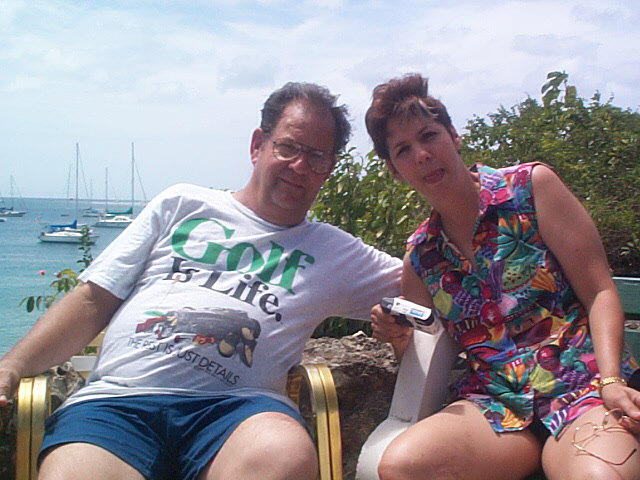 His Jersey said it all......funny he didn't get in to the last early morning game at Mt.Irvin......hmmmmmm...."easy!" Fran was one of the more dedicated smokers in the side, and the dry humour and quick retorts from both were a constant source of humour and a sign that these two nice people know one another inside out.....Dave and Frances Inglis (O'Brien)
Fresh in from the land of Bim, Chris and Joan Taylor fitted in to every mood and every situation well. Time to be steady they were steady, time to "free-up".......look out for a good joke, good laugh and good "fatigue". Drink a few?.....hmmmmmm.....maybe. Hi guys......love to the kids and grands.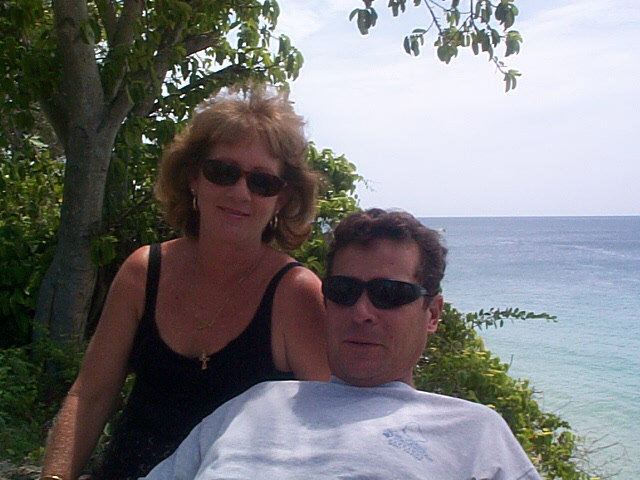 If there was a prize for the chief organizer it would go to Alec "Freddy" "Bill" Ward, and the prize for the best stories and most amusing perspective would go to Sandra. The "Freddy" is just a pet name and the "Bill" is Sandra's name for him when he takes over and organizes the splitting-up of bills. Alec organized golf, dinner orders, bills, BBQs, stocks etc. Their combined sense of humour made everything a pleasure......thanks guys.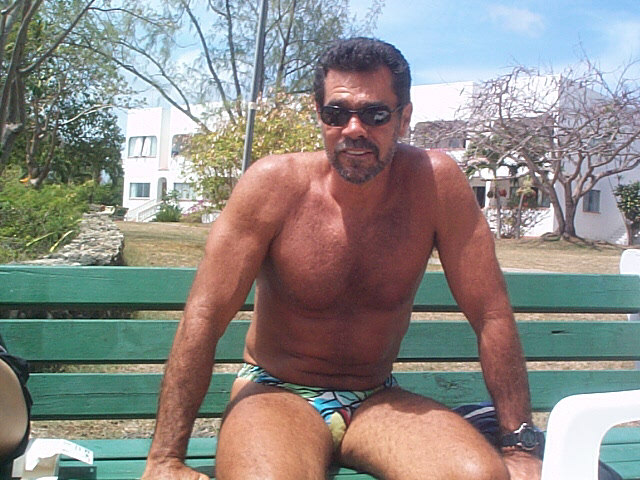 One of two bachelors in the Crown Point group, Peter Hughes let his hair down and got right in to the middle of "the 'hole dam t'ing" right away....no practice. He had a ball..... was a little late to get started on the beer on Sunday.......must have had to do with the heat.....NoNo!....not the rum the night before. Great to see you Pete, love to Alice and hope that she will make the next one.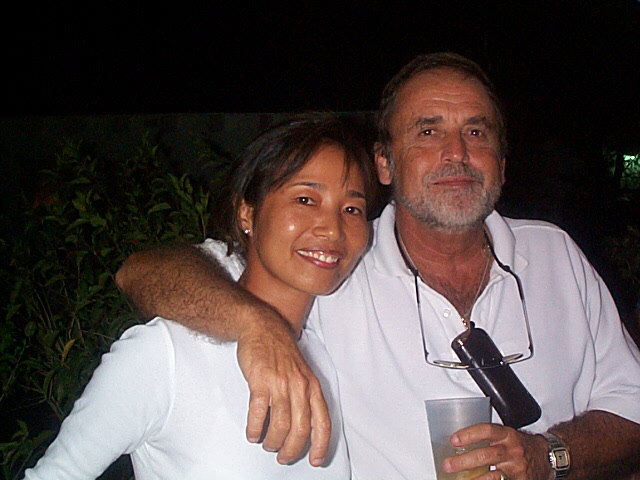 Des and Di Pontifex live in Tobago and were able to get away when things got going too fast, but like the rest of us enjoyed the company even though it was in their normal beautiful surroundings and may not have had the same sense of adventure that we visitors felt. Both avid golfers (not sure who wins), they hosted the group at their home on Monday night......must have been great.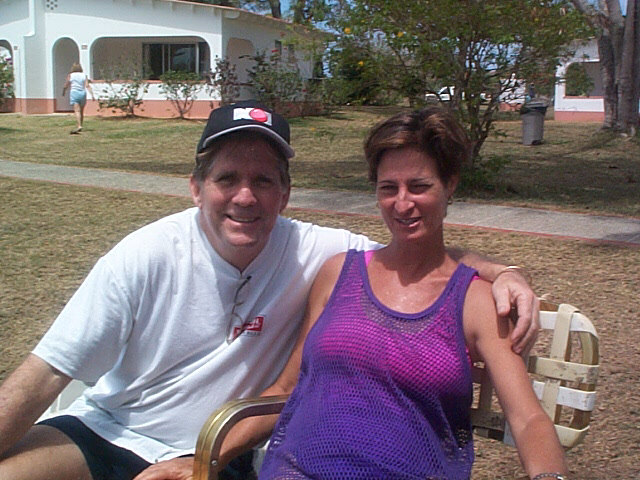 Oh my God!! what a ugly man like dat doin' wid such a fine chick.......ay gurl yuh lookin' good". Nice cap though......Donna and Nigel had a ball......looking forward to the next one.......cheers guys.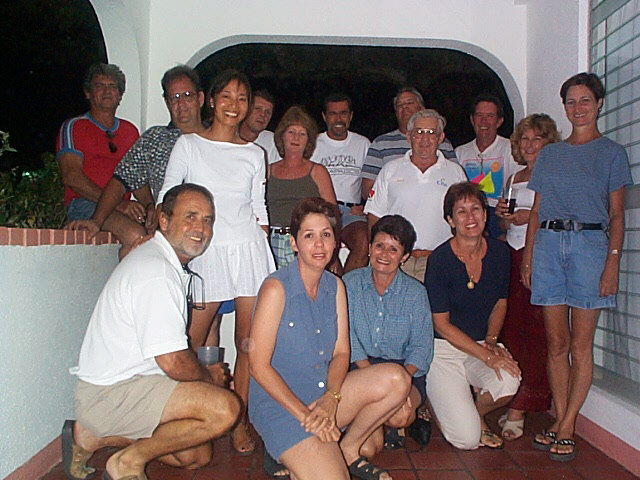 The whole group gets together for one final pic in the porch of Peter Hughes' cabana.
From left in the back - Douglas Bayne, David "Sniggs" Inglis, Di Pontifex, Alec Ward, Sandra Ward, Peter Hughes, Chris Taylor, Tommy Johnson, Raymond Westmorland, Chris Westmorland,.
From left in front - Des Pontifex, Frances Inglis, Sandra Johnson, Joan Taylor, and Dons (standing).