ROGUE'S GALLERY.
Pictures of people as they are now.
---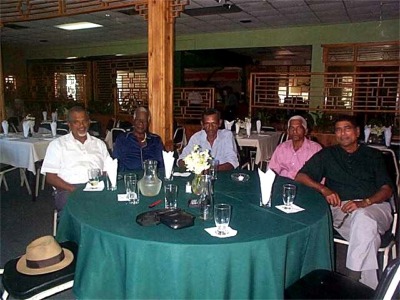 What a pleasure to meet these ex-PaP Club Barmen after such a long time. They remember us all and remember everything that we did.....look out, I'm working on a retirement fund and blackmail is in the books.
From Left - Tex, Ralph, Jones (Dougla), Sookhoo (Scotchie), and Ramdeo Rampat who made the whole thing possible. Some great old B&W picks of most of them on the Pap Club Page.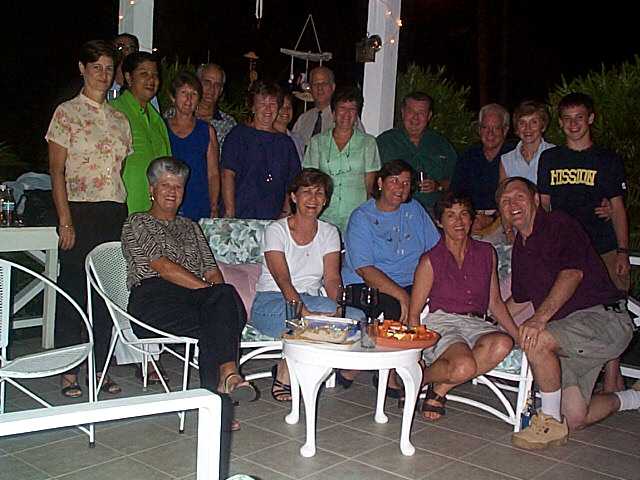 A wonderful evening at Linda Krogh's (Maingot) to meet the bower girls after a long time. Super to see them again.
Standing from left - Donna Darwent, Joan Messiah (Dolley), Kevin Krogh (partly hidden), Mary de Verteuil (Stibbs), Gary Maingot, Maureen de Verteuil (Chris' wife), Ingrid Collier (partly hidden), Ian Collier, Deanna Permuy (Govia), Geoffry MacClean, Elizabeth (Ginger) Bower and her son Thomas.
Sitting from left - Carolyn Maingot (Collier), Linda Krogh (Maingot), Kathleen May (Permuy), Gillian Bower and hubby Bill.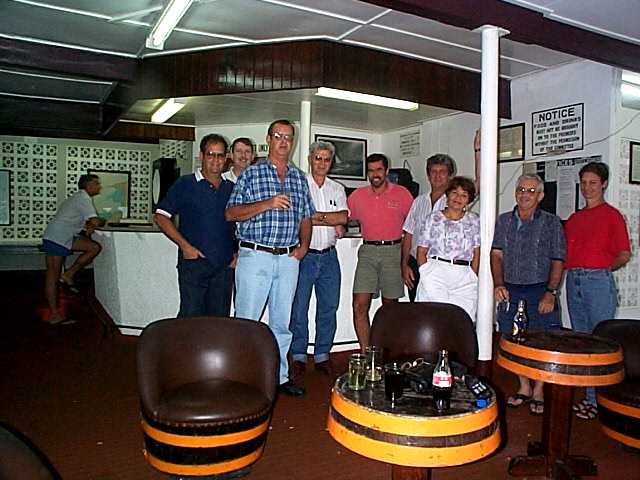 Sure that you recognized the PaP Yacht Club and the happy group gathered there.
From left - Davis (Sniggs) Inglis, friend of Sniggs, Robin (Storks) Storey, Michael (Cacachat) May, Peter (Haggis) Hughes, Douglas (Dus) Bayne, Oline Storey, Tommy Johnson, and Donna (The Saint) Darwent.
Another Yacht Club group.
From Left - Roderick (Roddy) Gibbon, Douglas Bayne, David (Garo) Garanito, Tommy Johnson, Peter Hughes, and Mike May.
My good friend from Pointe-a-Pierre, Peter Hughes and his beautiful wife Alice......much better shot Alice.....Thanks.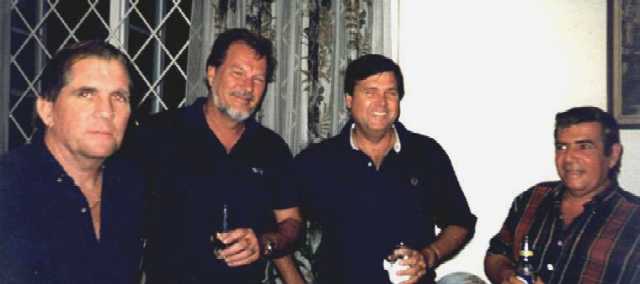 Four real Rogues - Nigel Darwent, Andrew Silvester, Rick Pontifex and Ian Le Fleuve (Married Carol Mearns)....pic taken at a party recently at the Edghills, and submitted by Andrew....thanks Andy!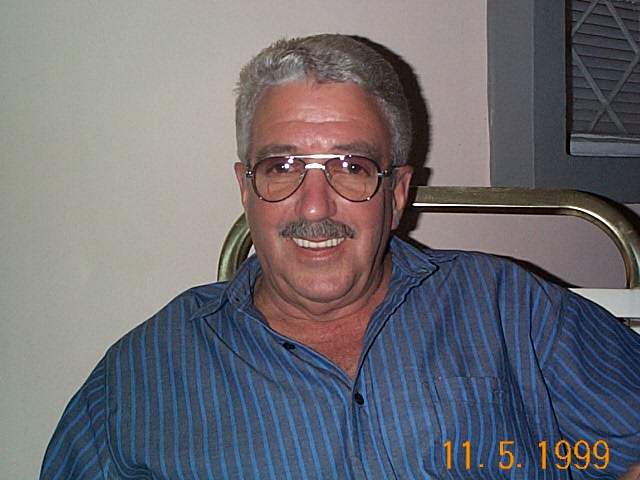 Lanny Govia joins us in the Gallery. Past of Forest Reserve and St.Pete's, he is still here and involved in our Oil Industry.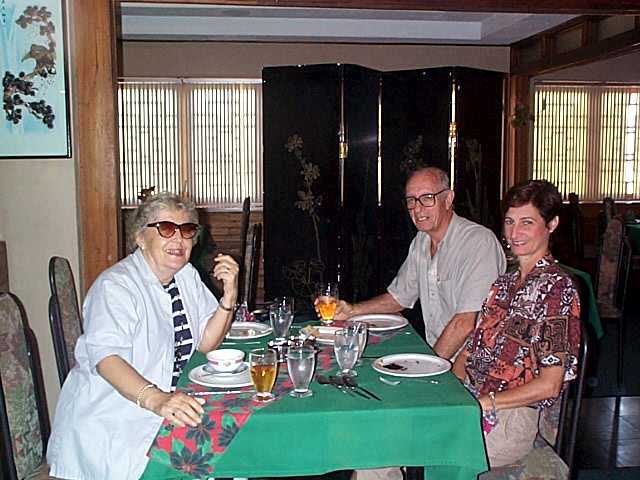 Had a big surprise recently when we got an unexpected call from Melitta Hawkins inviting Donna and myself for lunch with herself and Laurence. Had a lovely lunch at Soong's....great food and super company.......Hi guys!
Chris Ferguson is surrounded by lovely people.....married to Mary-Lou Wainwright he is also Donna's cousin.....Hi Chris!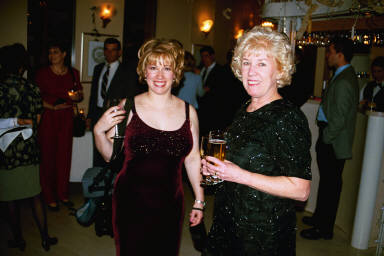 Olivia De Freitas now Abreau needs no introduction....I recognized her immediately. Here she poses with daughter Michelle....Hi Michelle. Missing, probably behind the lens is hubby Ron.....Hi Ron.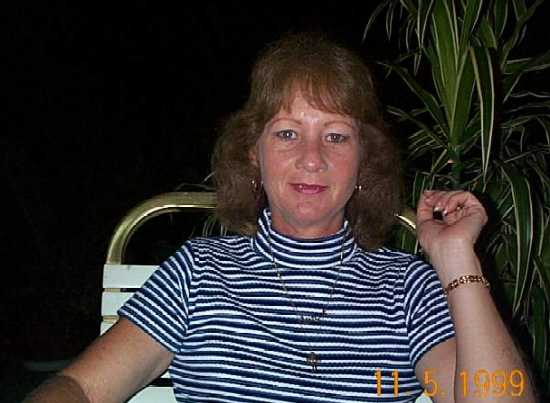 Sandra Ward (Henderson), wonders..."I hope he doesn't put this on the Web". Hi Sandra!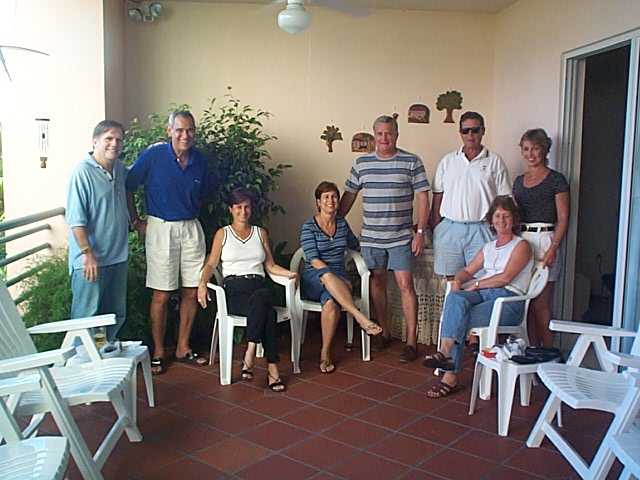 A mottley group gathers at Tommy and Debbie Evans' (Grainger) the morning after Alec Ward's ?0th birthday party......they were showing the scars of the night before.
From left standing - Yours truly, Tommy, Chris Taylor, Alec, and Debbie.
From left sitting - Donna, Joan Taylor, and Sandra.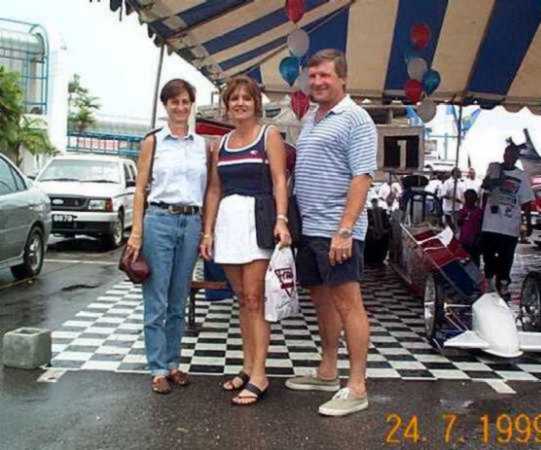 Donna and myself ran in to the Watlings at a boat and car show some months ago. Living in Oz, Candy (Carr) and Ian are still missed here...come-on-back sometime.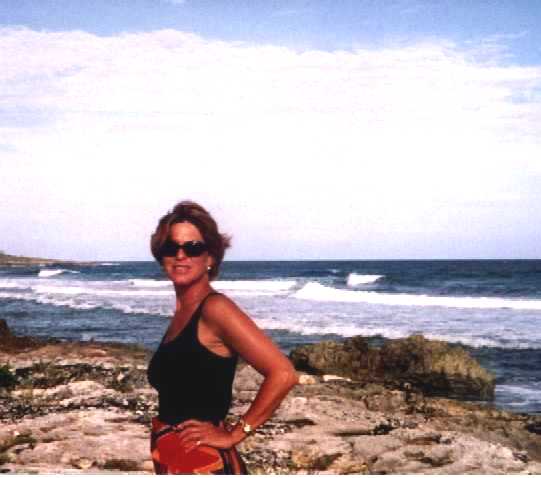 Beautiful Alison Samuel in the equally beautiful Cayman Islands.