TEMPOS' REUNION
37 Years Later - They still draw a crowd.
---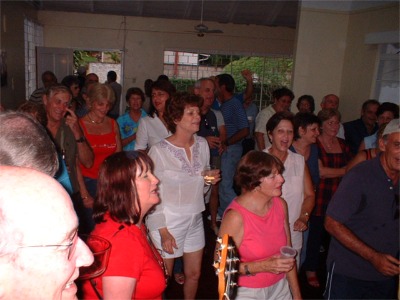 If the boys had any questions about how we would react when they struck-up, scenes like this would have immediately put their concerns to rest.....more people listening and moving around in time to the music than outside drinking....powerful sounds Tempos!!! Don't get swell headed now, but you will notice that the ladies outnumber the men 10 to 1.......you guys are
still got some groupies.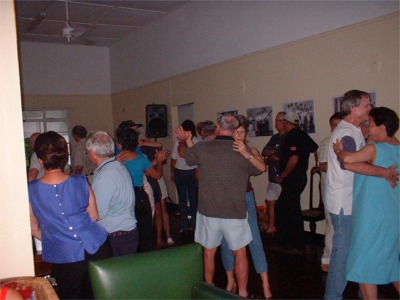 Didn't take long for the sweet sounds to move from the ears to the feet and some healthy "foot pushing" took place.....a chance to become a real part of the music......to take every note and guitar-run and turn it in to rhythm.....in their song Hotel California the Eagles remember......"some dance to remember some dance to forget"........great day guys!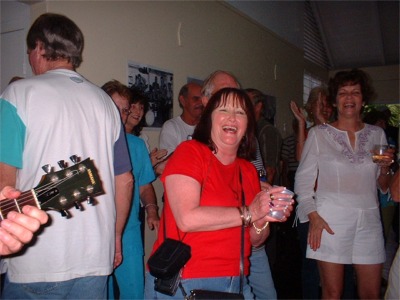 Hugh's wife Sue shows her happiness and possibly some relief as the boys quickly got in to gear and the crowd responded with loud appreciation. Jeanine de Montbrun (Scott) enjoys the moment to the right. Bruce "Broc" Gibbons (back to camera at left) can't take the listening scene no more and heads for the kitchen....why????....answer in the next pic down.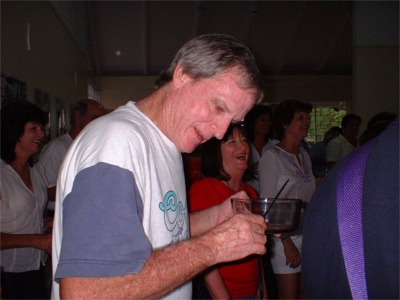 Sweet rhythm....deep concentration.....bottle and spoon....get right in to it Broc....no better way to be part of the sounds and rhythm. Broc was one of the more outwardly appreciative people and one with deep and obviously good memories of that time long gone.......cheers Broc.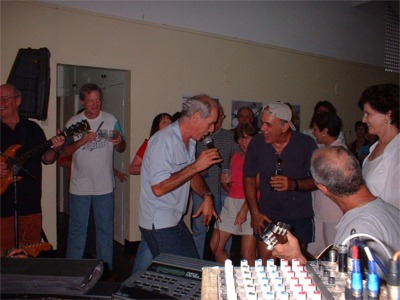 A new calypsonian is borne.....Malcolm Laing.......in the heat of the moment he took up the challenge and did his own thing until the fan club started then it was his show for a while.......the band didn't mind....in fact they may sign him up......"making love one day wid a girl dey call Mae Mae". It has been suggested that his calypso name will be "Lord Have Mercy".....great stuff!!!!
---