P-a-P People Party
A lovely evening as old friends get together again.
---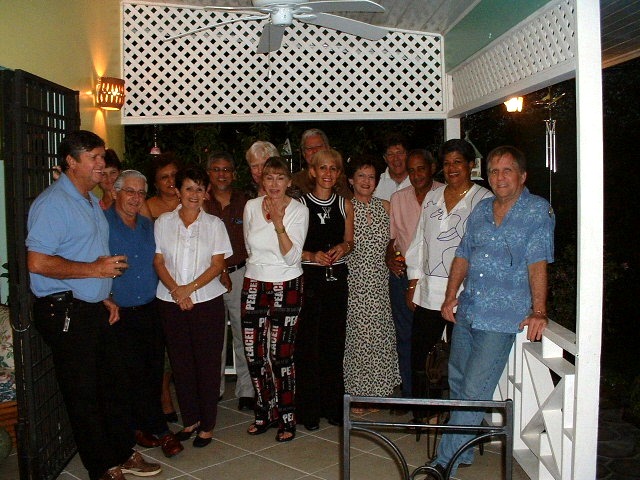 When PaP people get together and "de blag runnin' hard", timing is critical if you are to get them away from the ole talk long enough to get a group pic. Too early and everyone is sober, too late and they would be unmanageable.
From Left: Rick Pontifex, The Dons hiding behind Tommy Johnson, Kamla Tewarrie (good friend), Sandra Johnson (Ferriera), Bhoe Tewarrie, Gordon Lloyd peeping out from behind Angela Edwards, Roger Fernandez, Yvonne Parsons (Geoff's wife), Jackie Carr-Brown, Geoff Parsons, Steve Dolly, Joan Messiah (Dolly), gulp gasp....Me.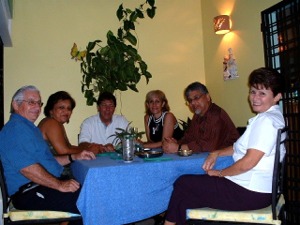 After a sumptuous dinner cooked by the Dons and our helper Anne-Marie Basdeo, one of Maraval's lovely people, the "sit-at-the-table-brigade" groan politely at having to pose.
From Left: Tommy Johnson, Kamla Tewarrie, Geoff Parsons, Yvonne Parsons, Bhoe Tewarrie, Sandra Johnson.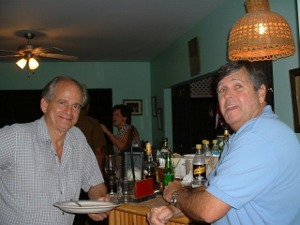 Don't get too far from the bar now....not even for dinner......Barry Carr-Brown and Rick Pontifex get ready for an after dinner drink.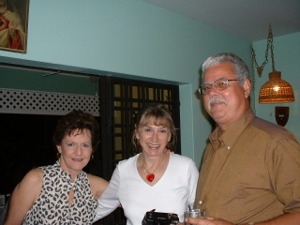 This happy trio of Jackie Carr-Brown, Angela Edwards and Roger Fernandez gave no problems to pose. If you note the camera in Angela's left hand you will realize that reciprocity is a big persuader.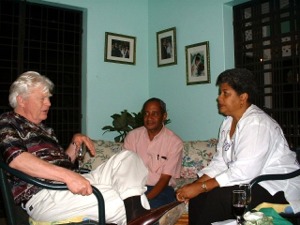 Gordon Lloyd and Joan Messiah get caught up after many years. Steve Dolly looks on expectantly as he waits for Gordon's response as these two friends from PaP days swap stories.
---
People have visited since April 21st, 2004.
---