---
P-a-P 40s Dubbs Plant.
Thanks to Bruce Locke.
---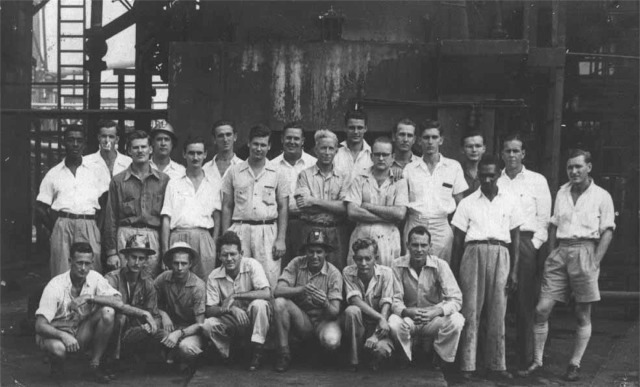 What can I say? Even though my time spent in the refinery was long after this shot was taken, I remember many of the people in this pic, and certainly knew others by reputation as I passed through the refinery generally and the Dubbs itself. I still maintain that the enduring memories of the time are not only the things that I learned and marveled over and the experiences with fires and other exciting things, but mainly the people I met and who helped me learn. How well they knew their plants, how disciplined most of them were at work regardless of what they were known for outside, and their patience with this young LRO (Learner Refinery Operator) who was known for a while as Mr.Q. The Q stood for the many questions I asked and all the answers I entered in to my big hard back book along with line diagrams of everything.
From left in the picture back row - LLoyd Kennedy, Dennis Weatherhead, Morris Nicholson, Paddy O'Connor, Gerry Parsons, Eric Corbin, Charlie Chapman, Neville Patterson and Dave Ford (short pants).
From left in the middle row - ??, Gordon Bruce, Bruce Harries, Roy Schliefer, Ronny Gordon (looked exactly the same when I passed through in '63), ?? Mandeville, Lionel Goodridge, and ??
From left front row - Henry Permuy, Carl da Silva, Oliver Pitcher, ??, Ralph Pontifex, "Tojo" Mitchell, and Jim Milne.
Sad moment remembering so many of these people and realizing that they are all a part of what I have become.....thanks guys.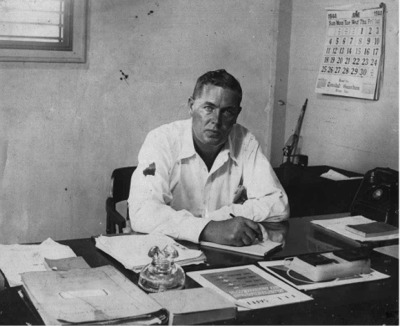 Paddy O'Connor sits at his desk in the Dubbs office. Didn't know Paddy personally but certainly by reputation......a good one. The calendar on the wall from the Guardian Newspaper sets the date at June 1944.....looooong time ago!!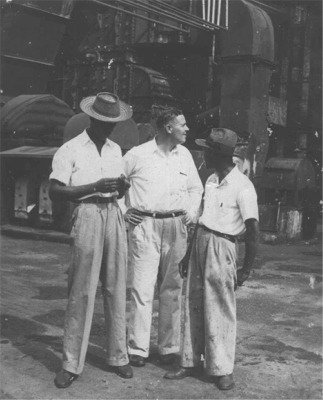 Here Paddy Confers with two of the plant foremen. Unfortunately no names for either of them and I don't recognize either.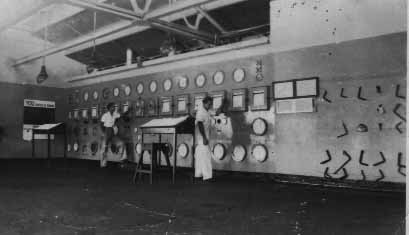 Control rooms always were my favourite spots, they always seemed cool, were well lit, even though they were open they were quieter than the surroundings, the instruments, even the old circular chart recorders that preceded the strip chart recorders, and the multi-point temperature recorders, were most exciting and offered a lot to learn about instrumentation as well as the plant's process.....they were the operators eyes in to the process.....wonderful pic....thanks Bruce. We also always had a sleeping spot behind the panels where the instrument boys kept their stuff.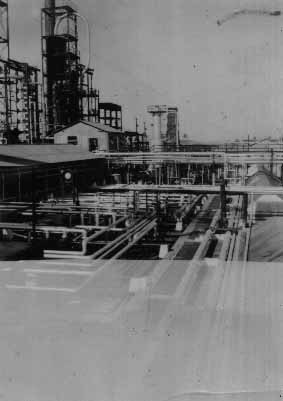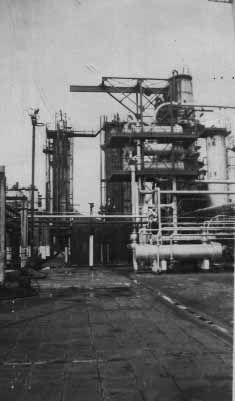 Two pics of the once proud Dubbs Thermal Cracking plant in the south area.......when I worked there it was still called the Dubbs but actually was a Visbraker, 5 Topping and 6 & 9 Topping, and the Resid Plant.....hated the Resid Plant....hot....everything steam traced and one slip and you had a big de-coking job.......preferred the gentle Wilson Schneider charge pumps that just sat there quietly swishing backwards and forwards all shift long.
---