---
Trinidad 40s People.
Thanks to Richard Dolman.
---
The following pics have been kindly submitted by Richard and one can only wonder what was going through their minds, what was their life like, how did they feel back then when things were so different to what they are now. What happened to his friend Hans Fulton.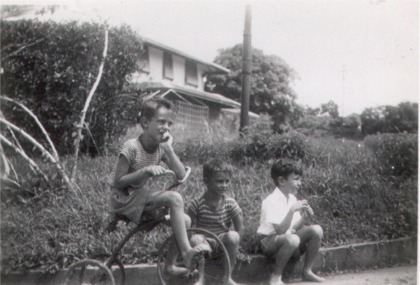 Richard sits on what must have been his modern tricycle along with his brother Peter and friend also possibly named Peter. Behind them stands an old bungalow with its shutters closed. Richard feels that it must have been on Poui or Flambouyant, both close to where he lived. Who took this pic, what prompted it. If anyone can finger the last lad it would be most appreciated.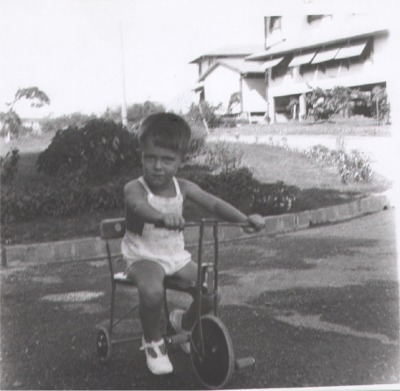 Richard a few years earlier sits proudly on his trike close to the location in the pic above if one is to judge by the curved curb.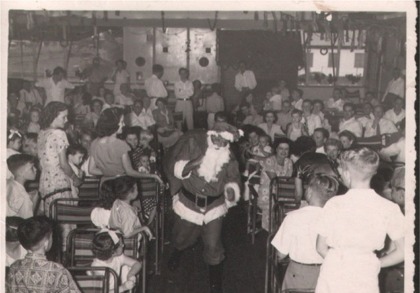 Santa lugs his heavy bag of gifts through the crown in what must have been the old club. Since I didn't know this club I cannot identify where in the building this shot is taken. Certainly a heavy looking bag of presents or Santa already feeling the season.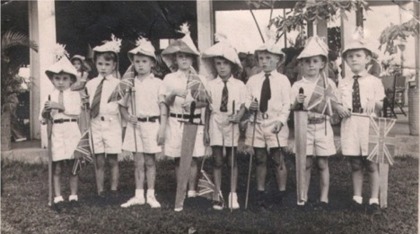 Everyone was happy when the war was finally over and these lads join in celebrating VE day. Not sure if it was on the day in 1945 or a subsequent anniversary. Richard describes it as "Duke of Yorks men. complete with paper hats, swords and flags. A P a P school event at the end of the war to celebrate VE (?) I am the lad in the middle with flag down and the oversize hat. The boy on the left I think was a Gellespie (spelling?)"
---